"Lonely lion is better than famous sheep."
"If you want to be a winner then be fearless like a lion."
"Run after your dreams like a lion runs after a deer."
"Setting a goal is not enough, hunt them."
"Be the lion of your forest."
"Everyone wants to get, but some of them hunt."
"Be the hunter of your dream."
"Do not roar like a lion, just set your target and hunt like a lion."
"Success depends on your appetite."
"You will never be proud without courage."
"Be strong to chase your dreams."
"Being comfortable while struggling is very important."
"Find your goal, focus on your goal and just do it."
"You will be patient and focused."
"If you want to be like a lion, then be the leader, not a follower."
"Living one day as a lion is greater than living your life as a sheep."
"If you are a lion, do not fear the opinions of goats."
"You need to learn to hunt like a lion if you want to fulfil your dreams."
"The scars on the body of a lion are evidence of its success."
"Have the attitude of a lion if you want to be unstoppable."
"Stay strong like a lion, and all your fears will disappear."
"If you are brave like the lion, then you can survive any difficulty of life."
"If you cannot learn to fight like a lion, then you will never be the king."
"Lions are intimidating, that's why everyone adores them."
"A lion alone can rule the whole of the Jungle."
"They said I'm weak, today I fight lions and they kill sheep."
"Be as brave and wise as a lion to conquer what's yours."
"Lions focus on only what they want and fight till they get it."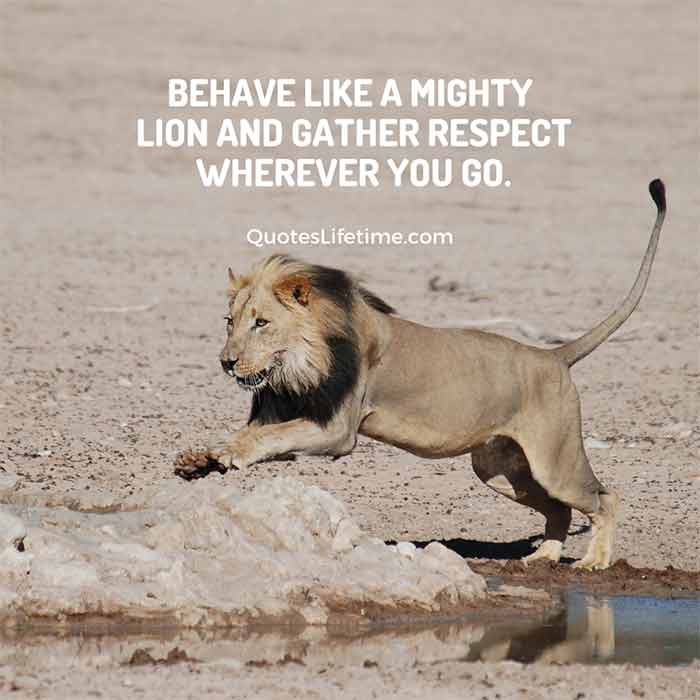 "Behave like a mighty lion and gather respect wherever you go."
"You can succeed in life, you should start hunting your goals like a lion."
"When people lose hope in you, that is when you need to be independent as a lion."
"When you want to fulfil your dreams at any cost, you need to be as fiery as a lion."
"A dog disguised as a lion is enough to scare away the hyenas."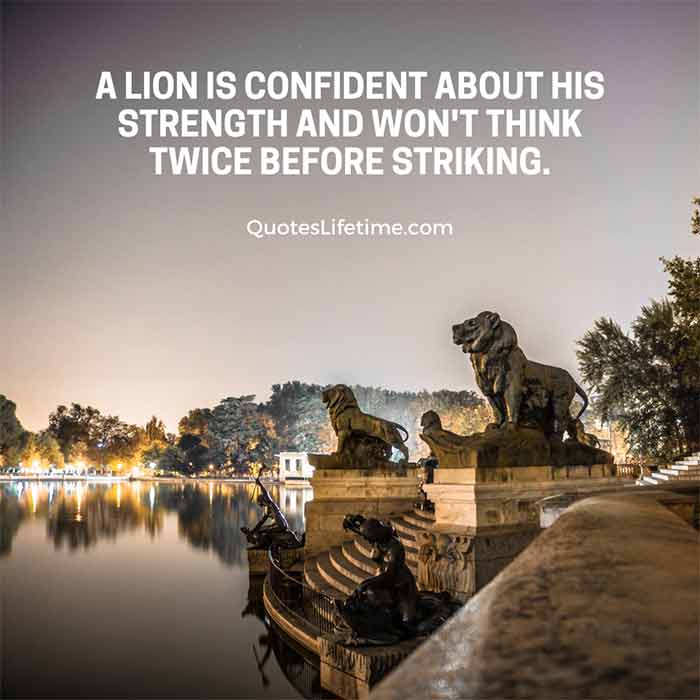 "A lion is confident about his strength and won't think twice before striking."
"Cats and lions belong to the same family but what differentiates them is their fierceness."
"There's silence all around when the lion enters the game of prey."
"It takes real courage to tame a lion and not everybody can do that."
"Lions aren't greedy, they have only as much as they need each day."
"Even if a group of wild animals try to take over a lion the lion is confident of taking them down all alone."
"You don't need company to live life happily, lions establish their rule alone."
"Giving up means you've lost hope and faith in yourself, be like the lion that hunts their prey with all their might."
"Just believe in you, you can do anything."
"A lion gets what it wants and never takes no for an answer."
"A lion has no need to prove his strength, there is a reason why kings are respected."